A "sea star wasting disease" is killing the little creatures, some experts say. The wasting disease is an affliction that causes white lesions to develop, spread and turn them into "goo," according to theAssociated Press, but not all experts are convinced of the root cause of the latest disease to take Pacific Ocean sea life.
"The disease has killed up to 95 percent of a particular species of sea star in some tide pool populations," AP reports.
"They essentially melt in front of you," Pete Raimondi, chairman of the Department of Ecology and Evolutionary Biology at University of California, Santa Cruz's Long Marine Lab, told The Santa Rosa Press Democrat (http://bit.ly/HvjuYi).
Even starfish in an aquarium at the Gulf of the Farallones National Marine Sanctuary visitor center in San Francisco died from wasting disease after water was pumped in from the ocean in September.
Sampling has found the disease in starfish from Alaska to Southern California, according to a 
map
 (http://bit.ly/1e7Xl0c) on the marine lab's website.
Wasting disease has never been as widespread as researchers are finding now, according to Ramondi.
Steven Morgan, an environmental science professor at the Bodega Marine Laboratory at the University of California, Davis, has found emaciated sea stars on rocks at Schoolhouse Beach, north of Bodega Bay.
He says he's unsure if wasting syndrome is the culprit. Morgan called the starfish deaths a "strange anomaly."
"None of us had ever seen anything like this before," he said.
Three months ago, a woman 
wrote on Yahoo "Answers" 
that her dog became ill after eating a dried starfish: "I got these real dried starfish in the mail for a party but my dog got a hold of them & 
ate
 all but 3. I guess she thought they were delicious. Anyway she got sick & I'm wondering what I can do."
One might justifiably ask, "How many West Coast people are becoming ill but being misdiagnosed?"
Scientists report acidification is causing Pacific Ocean shellfish diseases. Some say it's global warming, others point to Fukushima radiation, while others consider both.
Warnings that Americans are being radiated
Experts have said since 2011 that Fukushima's 'off-the-scale' lethal radiation level implies millions of humans are dying.
While U.S. government officials have remained silent about the Fukushima dangers, with Hillary Clinton signing a secret pact with Japan to import tainted Fukushima seafood into the U.S., independent experts have warned Americans to not consume seafood or other Pacific Ocean products and not to swim or surf in the radiated Pacific Ocean.
Last month, Michael Snyder listed 28 signs showing that the West Coast is absolutely being "fried" with radiation.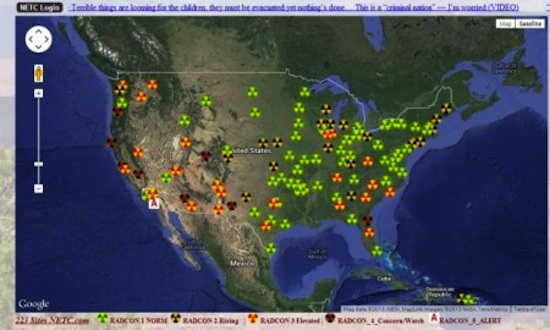 Nuclear Emergency Tracking Center Map 
The map above shows radiation levels at radiation monitoring stations all over the country are elevated.
"As you will notice, this is particularly true along the west coast of the United States," reports Snyder. "Every single day, 300 tons of radioactive water from Fukushima enters the Pacific Ocean.  That means that the total amount of radioactive material released from Fukushima is constantly increasing, and it is steadily building up in our food chain.
"Ultimately, all of this nuclear radiation will outlive all of us by a very wide margin," says Snyder. "They are saying that it could take up to 40 years to clean up the Fukushima disaster, and meanwhile countless innocent people will develop cancer and other health problems as a result of exposure to high levels of nuclear radiation.  We are talking about a nuclear disaster that is absolutely unprecedented, and it is constantly getting worse."
Snyder lists 28 signs, each referenced, that the West Coast "is being absolutely fried with nuclear radiation from Fukushima."
1. Polar bears, seals and walruses along the Alaska coastline are suffering from fur loss and open sores…
2. There is an epidemic of sea lion deaths along the California coastline.
3. Along the Pacific coast of Canada and the Alaska coastline, the population of sockeye salmon is at a historic low.  Many are blaming Fukushima.
4. Something is causing fish all along the west coast of Canada to bleed from their gills, bellies and eyeballs.
5. A vast field of radioactive debris from Fukushima that is approximately the size of California has crossed the Pacific Ocean and is starting to collide with the west coast.
6. It is being projected that radioactivity of coastal waters off the U.S. west coast could double over the next five to six years.
7. Experts have found very high levels of cesium-137 in plankton living in the waters of the Pacific Ocean between Hawaii and the west coast.
8. One test in California found that 15 out of 15 bluefin tuna were contaminated with radiation from Fukushima.
9. In 2012, the Vancouver Sun reported that cesium-137 was being found in a very high percentage of the fish that Japan was selling to Canada…
12. BBC News recently reported that radiation levels around Fukushima are "18 times higher" than previously believed.
13. An EU-funded study concluded that Fukushima released up to 210 quadrillion becquerels of cesium-137 into the atmosphere.
14. Atmospheric radiation from Fukushima reached the west coast of the United States within a few days back in 2011.
15. At this point, 300 tons of contaminated water is pouring into the Pacific Ocean from Fukushima every single day.
16. A senior researcher of marine chemistry at the Japan Meteorological Agency's Meteorological Research Institute says that "30 billion becquerels of radioactive cesium and 30 billion becquerels of radioactive strontium" are being released into the Pacific Ocean from Fukushima every single day.
17. According to Tepco, a total of somewhere between 20 trillion and 40 trillion becquerels of radioactive tritium have gotten into the Pacific Ocean since the Fukushima disaster first began.
18. According to a professor at Tokyo University, 3 gigabecquerels of cesium-137 are flowing into the port at Fukushima Daiichi every single day.
19. It has been estimated that up to 100 times as much nuclear radiation has been released into the ocean from Fukushima than was released during the entire Chernobyl disaster.
20. One recent study concluded that a very large plume of cesium-137 from the Fukushima disaster will start flowing into U.S. coastal waters early next year…
21. It is being projected that significant levels of cesium-137 will reach every corner of the Pacific Ocean by the year 2020.
22. It is being projected that the entire Pacific Ocean will soon "have cesium levels 5 to 10 times higher" than what we witnessed during the era of heavy atomic bomb testing in the Pacific many decades ago.
23. The immense amounts of nuclear radiation getting into the water in the Pacific Ocean has caused environmental activist Joe Martino to issue the following warning…
24. The Iodine-131, Cesium-137 and Strontium-90 that are constantly coming from Fukushima are going to affect the health of those living the the northern hemisphere for a very, very long time.  Just consider what Harvey Wasserman had to say about this…
25. According to a recent Planet Infowars report, the California coastline is being transformed into "a dead zone"…
26. A study conducted last year came to the conclusion that radiation from the Fukushima nuclear disaster could negatively affect human life along the west coast of North America from Mexico to Alaska "for decades".
27. According to the Wall Street Journal, it is being projected that the cleanup of Fukushima could take up to 40 years to complete.
28. Yale Professor Charles Perrow is warning that if the cleanup of Fukushima is not handled with 100% precision that humanity could be threatened "for thousands of years"…
Waiting for an evacuation? Waiting for a government statement alerting the public about the high-level of danger along the West Coast due to Fukushima radiation?
Forget that. Just ask anyone still alive from the BP Gulf of Mexico oil and radiation crime.
[See: Aussies Blow Lid Off BP Gulf Oil-Corexit Deaths, 'Health Catastrophe' Cover-Up]
How many more signs do Americans need to either heed rights defenders' warnings or die untimely, long-suffering deaths from being radiated?
Photo Credits: Natural World News, Skytruth, USCG
—————————-
Human Rights news reporter Deborah Dupré is author of "Vampire of Macondo, Life, crimes and curses in south Louisiana that Powerful Forces Don't want you to know," 450 pages packed with US mainstream media-censored stories about the BP-wrecked Macondo Prospect in the Gulf of Mexico that continues catastrophic human and environmental devastation.