The following article by Daisy Luther was originally published at The Organic Prepper. 
Things are dire in Puerto Rico. We haven't heard much directly from people there since Hurricane Maria took out power for the entire island, but what we do know is that the situation is desperate. This is a shocking, real-life glimpse into what it's really like when the S hits the fan.
I saw a post from a friend of a friend who has family in Puerto Rico. I don't have permission to share names, but here's what she said:
"My family has lost everything. My uncle with stage 4 cancer is in so much pain and stuck in the hospital. However conditions in the island are far worse than we imagined and my greatest fear has been made reality. The chaos has begun. The mosquitos have multiplied like the plague. Dead livestock are all over the island including in whatever fre

sh water supplies they have. 

My family has been robbed and have lost whatever little they had left. The gang members are robbing people at gun point and the island is in desperation. People are shooting each other at gas stations to get fuel. 

They're telling us to rescue them and get them out of the island because they are scared for their lives. We're talking about 3.5 million people on an island, with no food, no drinking water, no electricity, homes are gone. Family if you have the means to get your people out, do it. This is just the first week. Imagine the days and weeks to come. These are bad people doing bad things to our most vulnerable. 

Imagine a few weeks with no resources and the most vulnerable become desperate. What are you capable of doing if your children are sick and hungry? We have to help."
I decided to vet what I could, and I believe this horrible story is absolutely true. I confirmed that there is very little food, no fresh water, 97% are still without power, limited cell signals have stymied communications, and hospitals are struggling to keep people alive. There is no 911. Help is not on the way. If you have no cash, you can't buy anything. As people get more desperate, violence increases.
Never doubt that such an event could happen to any of us, no matter how carefully we prepare. Your best-laid plans could be swept away by a storm, flood, or fire. The immediate support most people have grown to expect might not be on the way.
Here's what I learned.
Many homes were completely destroyed.
In the town of Catano, more than 60% of the residents are homeless due to the storm. At the shelter in Catano, the bathrooms flooded and sewage backed up into the building. There is food, but no water. It's hot, dark, and the stench is overwhelming. There is more than one person at the shelter who is diabetic, and there is no ice for their insulin. (source)
Rivera Aviles, a Cataño city council member who set up the shelter with the help of her husband, found that her home was devastated, too.
She and her husband evacuated before the storm because their house — made of wood — is close to the water's edge. After Maria passed she returned home and was shocked that "the entire roof was blown off."

"Everything got wet — the beds, furniture, everything," she says. The water damage has made it unlivable. (source)
The homes that are still standing were horribly damaged. "Even in homes that remain standing on the island, water damage and power outages have destroyed most belongings, medicine, and food." (source)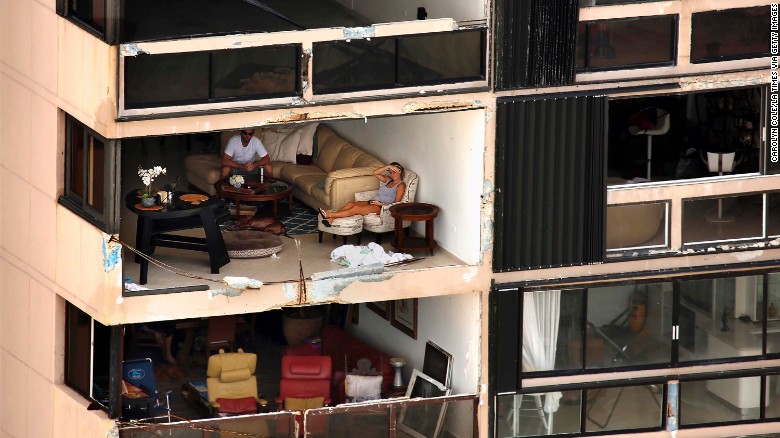 photo credit
There is hardly any potable water.
Nearly half the people in Puerto Rico are without potable drinking water. The tap water that is restored has to be boiled and filtered, and others are finding water where they can. You can expect a health crisis soon due to waterborne illnesses. When I researched my book about water preparedness, I learned that waterborne illness is one of the deadliest threats post-disaster. Although FEMA has delivered 6.5 million liters of water, on an island with 3.4 million people, it isn't enough.
Isabel Rullán is the co-founder and managing director of a non-profit group called ConPRmetidos. She is very concerned about the water situation. She said that even if people were able to acquire water "they may not have the power or means to boil or purify it."
She added that the problem went beyond access to drinking water — it was becoming a real public health concern.

Compounding that issue was hospitals lacking diesel and being unable to take new patients, she said.

"There's so much contamination right now, there's so many areas that are flooded and have oil, garbage in the water, there's debris everywhere," she said by phone.

"We're going to have a lot of people that are potentially and unfortunately going to get sick and may die," she said. (source)
According to the Department of Defense, 56% of the island has potable water, but in one town, Arecibo, the only fresh water comes froma single fire hydrant. (source)
Hospitals are struggling to keep people alive.
And speaking of hospitals, 59 of the 69 on the island were, according to the Department of Defense, "operating on unknown status."
Only 11 of 69 hospitals on Puerto Rico have power or are running on generators, FEMA reports. That means there's limited access to X-ray machines and other diagnostic and life-saving equipment. Few operating rooms are open, which is scary, considering an influx of patients with storm-related injuries. (source)
A hospital in San Juan reported that two people in intensive care died when the diesel fueling the generator ran out. The children's hospital has 12 little ones who depend on ventilators to survive, and once they ran out of fuel, they have gotten by on donations. FEMA has delivered diesel fuel to 19 hospitals.
But many darkened hospitals are unable to help patients who need it most.
Without sufficient power, X-ray machines, CT scans, and machines for cardiac catheterization do not function, and generators are not powerful enough to make them work. Only one in five operating rooms is functioning. Diesel is hard to find. And with a shortage of fresh water, another concern looms: a possible public health crisis because of unsanitary conditions…

The hospitals have been crippled by floods, damage and shortages of diesel. The governor said that 20 of the island's hospitals are in working order. The rest are not operational, and health officials are now trying to determine whether it is because they lack generators, fuel or have suffered structural damage. All five of the hospitals in Arecibo, Puerto Rico's largest city in terms of size, not population, are closed. (source)
One emergency room director said, ""This is like in war: You work with what you have."
And it isn't just the hospitals that are dealing with medical crises.
"We are finding dialysis patients that haven't been able to contact their providers, so we are having to transport them in near-death conditions," Mayor Carmen Yulin Cruz said, recalling a group's visit to two San Juan-area nursing homes this week. "We are finding people whose oxygen tanks are running out, because … small generators now don't have any diesel." (source)
Residents of Puerto Rico are also having trouble getting necessary medications.
A shortage of open pharmacies is another stressor, especially for the chronically ill and elderly residents. Most pharmacies in Puerto Rico remain closed, although they are slowly beginning to reopen. A CVS spokesman said that 21 out of 25 Puerto Rico-based CVS stores are now open, including 17 pharmacies. The first one reopened last Thursday. A Walgreensspokesman said about half of the island's 120 stores are open and running on generators, but that hours vary. The stores are also receiving supplies of medication.

But many pharmacies in Puerto Rico are independently owned. With so many people pleading for medication, some pharmacists who know their clients are dispensing drugs without the required prescriptions or refill bottles.

Hospitals still have adequate supplies, and so do many of the open pharmacies, but there are concerns they may run out because suppliers are unable to get to them, said Dr. Victor M. Ramos Otero, the president of the College of Doctors and Surgeons of Puerto Rico.

Even when people find the drugs, they often cannot pay for them. Without electricity, A.T.M.s do not work and stores cannot accept credit cards or process insurance plans. (source)
The people who were already weakened by illness will fare the worst, shortly followed by those who become injured or ill in the aftermath.
There isn't much food.
Much of the food on the island has spoiled or been contaminated.
In the town of Utuado, Lydia Rivera has started to ration crackers and drink rainwater to keep her two grandchildren alive. "No water, no food," Rivera told CNN. (

source

)
The few markets that are open are rationing food with only 10 items per person allowed. People are standing in lines for hours to purchase their 10 items. There's no way to keep perishables fresh. (
source
)
And there won't be food produced anytime soon. 80% of the crops were completely wiped out and it will take a long time to produce more.
José A. Rivera, a farmer on the southeast coast of Puerto Rico, stood in the middle of his flattened plantain farm on Sunday and tried to tally how much Hurricane Maria had cost him.

"How do you calculate everything?" Mr. Rivera said.

For as far as he could see, every one of his 14,000 trees was down. Same for the yam and sweet pepper crops. His neighbor, Luis A. Pinto Cruz, known to everyone here as "Piña," figures he is out about $300,000 worth of crops. The foreman down the street, Félix Ortiz Delgado, spent the afternoon scrounging up the scraps that were left of the farm he manages. He found about a dozen dried ears of corn that he could feed the chickens. The wind had claimed the rest.

"There will be no food in Puerto Rico," Mr. Rivera predicted. "There is no more agriculture in Puerto Rico. And there won't be any for a year or longer." (source)